UNIFY Financial Credit Union Increases Member Satisfaction with Q2 Discover
Jenny Wrobbel, the Digital Operations Manager for UNIFY Financial Credit Union (UNIFY), makes it clear how ROI is measured at the $3 billion credit union. "For us, our true ROI is the member experience," she said. As the go-to expert of all things digital for UNIFY's more than 250,000 members across the nation, she's constantly looking to enhance the user experience, one click at a time.
"We want to reduce friction, ideally before our members ever experience it," Wrobbel said. UNIFY added Q2 Discover to its existing suite of Q2 solutions after an early demo in April 2020. Launch was two months later and UNIFY has accrued more than 17 months testing its proficiency.
"Once we saw the program's capabilities, we were sold," Wrobbel said. UNIFY has since paired Q2 Discover with Q2 Smart and continues to implement more ways to drive their digital-first strategy using this new platform.
UNIFY has seen particular value in Q2 Discover's handy in-app banners or "guides," which it can deploy in minutes – often less than 10 minutes – on a landing page's exact location where users tend to have questions or need more information. These messages, created in UNIFY's specific brand colors and voice, are particularly relevant and useful to users in a number of time-sensitive scenarios. For example, guides can help users navigate digital roadblocks, such as temporarily unavailable landing pages.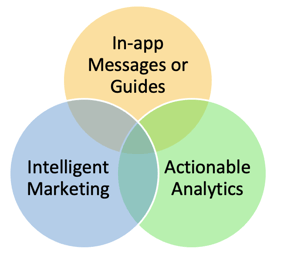 Q2 Discover's in-app guides are one of three major capabilities UNIFY now uses most often. The two others are rich analytics and intelligent marketing programs. All three bring high value to members, boosting UNIFY's true ROI – member experience.
How UNIFY Deploys In-app Guides
Providing members with pertinent information when needed – and without disrupting their session – is a challenging feat for any FI. UNIFY currently has over 30 guides in use. Continue reading, to le
arn how strategically placed banners are making the digital banking experience smoother for UNIFY members:
What's my balance? Before Q2 Discover, members often asked the UNIFY Contact Center team to explain the difference between their current and available balances. "We placed an instructional guide next to the account balance display," Wrobbel said. "The non-intrusive badge invites users to click if they want to read the definition of each type of balance. It's the first guide we deployed, and one that continues to prove useful for members," she said. "In just the first year, more than 18,000 members have accessed the guide, and we've seen that traction continue. There were over 700 unique views in the last month, saving members time and helping remove potential frustration; call volume, on the topic, is now very minimal as well."
"What I really like is the overall speed," Wrobbel said. "A guide can be up and running at the snap of a finger (with Q2 Discover). What used to take several days, can now be done in minutes. Plus, we have no limitations on look, feel or placement. The guide blends well on our website, and doesn't feel like an add-on. We're in full control, and the ownership is in our hands."
Where's my stimulus check? When the U.S. Treasury began releasing stimulus funds, UNIFY's Contact Center team was inundated with questions. UNIFY deployed a quick in-app badge, positioned near members' recent transactions. A link was provided to the IRS' payment-tracking page and also gave members the option to receive an alert when funds arrived. "This immediately removed pressure from our Contact Center and meant valuable resources could be utilized elsewhere," Wrobbel said.
How UNIFY Uncovers Hidden Gems in Data
Q2 Discover also helps UNIFY make informed, data-driven decisions with actionable insights. Detailed analytics not only measure the aggregate number of clicks per page, but also track the date, duration, and how members found the page.
Q2 Discover lets UNIFY ask for member input about a service but is only visible when the member is on that service's page. In March, UNIFY collected significant data on various payment services, and was able to use that information to better serve members moving forward.
How do I make a special loan payment? Through traffic data, UNIFY noticed members needing to make non-standard payments, such as principle only or payoffs. Many members visited their Fund Transfer page, where regular payments are made. In minutes, UNIFY positioned a behavioral guide, near account transfers, to help members navigate to the Loan page for payment modifications. "Members are clearly using and benefitting from the guide," said Wrobbel, noting the Contact Center receives very few inquiries related to this topic.
How UNIFY Hits a Bullseye with Targeted Marketing
Q2 Discover's highly tailored campaigns leverage the significant benefit of account holder data, using in-app messages to make the most of each session by sharing the right information at the right time with the right members.
Switch to eStatements. UNIFY's simple, well-positioned badge on eStatements is only shown to a list of members still receiving paper statements. In the first 60 days , the guide resulted in a 35% conversion rate to digital statements. The campaign is refreshed monthly, and targets a continuously updated list of members.
Rolling out a new eBanking service. "Q2 Discover gives us visibility into how members transact using Q2's Digital Banking platform," Wrobbel said. "We're using it to launch MemberPass, a new blockchain biometrics authentication service." UNIFY deployed a guide to let members know of the service without disrupting the user session. UNIFY can measure the value of the campaign, including which members found MemberPass on their own compared to those prompted by the guide.
UNIFY plans to use Q2 Discover to influence cash transactions in the future. For now, the primary focus is to deliver a flawless digital-first strategy. "We know there are powerful capabilities we'll be using," Wrobbel said. For example, UNIFY plans to release Q2's Savvy Money with the help of Q2 Discover. "We already have guides scheduled in the system, and, most importantly, we know our members will continue to benefit."
To learn more about Q2 Discover, click here.