When it comes to bill pay, millennials represent a lucrative opportunity for financial institutions (FIs). With an average annual income of $60,000, and upwards of half of it earmarked for bills, FIs looking to improve their bottom line and their account holder experience should be keeping their eye on payments processing.
Millennials want fast, easy, interconnected payments solutions that interact seamlessly with the digital tools they already use. They demand fast solutions that are integrated, flexible, and intelligent. More than half of millennials consider live processing as their priority in payments, and many say mobile-first solutions are critical.
In addition to having high expectations for technology, this financially savvy group also craves personalized digital experiences, where the UX does more than just help them pay for purchases. They are looking for tools that intuit their consumer behavior with predictive analysis, while providing reminders, alerts, and offers tailored to each user.
It's clear that millennials want deeper financial connections to their FIs. Providing trustworthy, helpful, and personal tools—such as bill pay alternatives—can help FIs make just those sorts of connections.
Take a closer look at millennials–what kind of consumers they are, how they pay their bills, and what they seek in payments.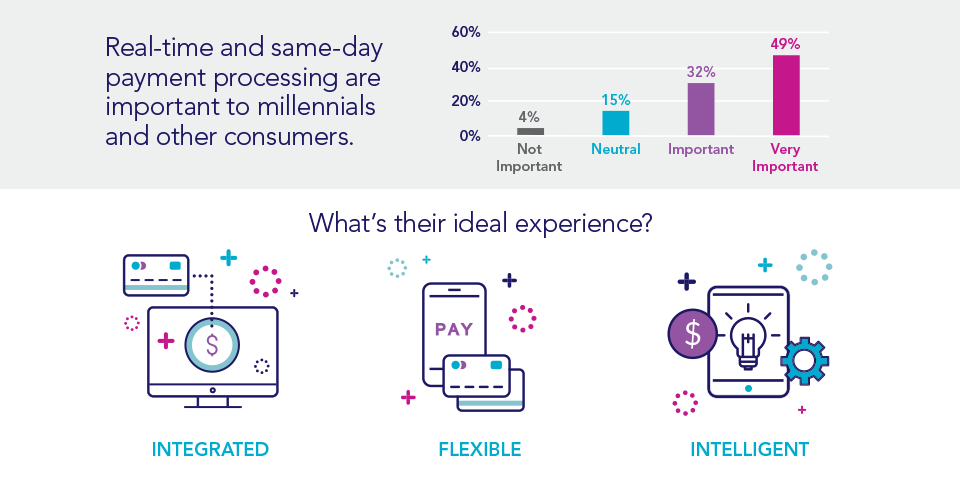 Download the Infographic