Customer experience is becoming a critical factor in building relationships with small business owners. The Q2 User Experience (UX) team found this out when it undertook a persona development project over the course of 2022 to get a better understanding of who these business owners are and what they need from their financial institutions (FIs) today.
The personas the UX team discovered from their research may be useful to your FI in understanding small business owners and what they need from your bank or credit union to have better banking experiences and to achieve more success.
Four personas for your FI to know
Using extensive quantitative and qualitative data, an in-depth analysis of today's small business owners emerged for the UX team. From their analysis, team members found four definitive personas emerging. Here are their persona profile summaries.
Committed Casey has high business competence. Throughout the day she is selling to customers and keeping in touch with her other business locations to answer any questions. Committed Casey has a positive business outlook and her business cash flow is high. She also is a risk taker who more likely relies on bookkeepers, accountants, and financial advisors.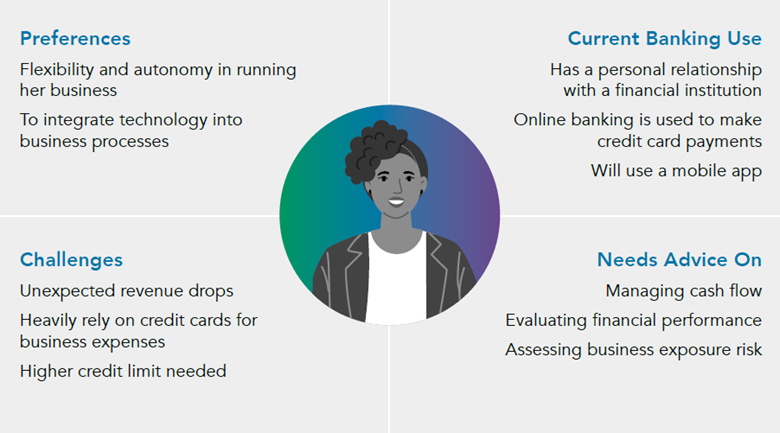 Dreamer Devon is a new business owner who is independent and has a high entrepreneurial spirit. He is most likely to start his business because of an idea he had. Likes doing things on his own and is least likely to rely on bookkeepers, accountants, or financial advisors, or have someone else track his financial records.

Doubtful Dylon is driven by extra income, and isn't as committed to his business as other personas. He doesn't take risks with his business and has lower business account competence, cash flow, business outlook, and entrepreneurial spirit. He also is least likely to seek education and guidance regarding his business.

Established Emory has been running a business for a long time with a "moderate" approach to most areas of the business. For this persona, all orders, communication with customers, and financial tasks happen online. Established Emory feels he has a good relationship with technology, but he sometimes is overwhelmed by all of the choices available to him and finds it trying to decide which solution will best fit his needs.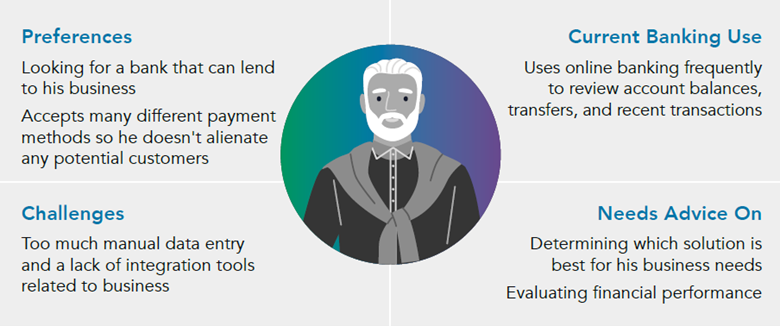 Central takeaways from these four personas
The four personas paint a fuller picture of what small business owners seek from digital banking and their FIs. From them, four central requirements emerge:
• Fast, useful reporting with their choice of delivery
• Self-service and easy admin—most of these persona types are busy running their businesses
• Robust integration capabilities to add new APIs—especially those that are payment related
• Configurable workflow to meet growth needs, along with a preference for hyper automation
Gain a deeper understanding of each type of small business owner by reading the rich findings of the Q2 UX team's research and analysis. Download the recently published white paper, "Better Understand Small Business Owners' Banking Needs."
You also might find "Digital Banking for a New Generation of SMB Owners" a useful read, as well.