The Power of Digital Innovation to Deliver Differentiated Offerings
By Tony Hall, Senior Vice President, Engineering
The pace of change in digital banking continues to accelerate at breakneck speeds – especially after the pandemic. Banks and credit unions are focused on meeting the evolving expectations of their account holders while providing differentiated offerings. We're committed to being your digital partner to help you achieve this goal, driving innovation and delivering new solutions to address your biggest hurdles and opportunities.

Our community financial institution customers, such as Johnson Financial Group (JFG), (JFG), provide excellent examples of leveraging Q2's array of solutions to enhance their digital banking strategy. For example, JFG has successfully modernized its digital banking offerings to compete at the national level and deliver an enhanced experience for its clients.

We're focused on helping you achieve your goals, win and onboard clients faster, serve them better and grow deeper, more profitable relationships. This edition of Q2 Chronicle includes helpful thought leadership and other informative articles that highlight developing market trends, valuable industry perspectives and the importance of innovation.

Thanks for reading,
Tony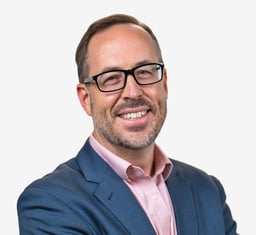 ---
Digital Innovation


Q2 has been recognized as the "Best in Class" vendor in the 2022 Small Business Digital Banking Vendor Scorecard by Javelin Strategy & Research
Q2 was named the leader among vendor solutions competitors for its unified approach to modernizing business digital banking through the Q2 digital banking platform, which provides financial institutions with the flexibility and autonomy to select which products and services to offer business clients, and the strategic framework of Q2 Catalyst, which offers products that cover the entire business customer lifecycle.


CU Broadcast: New Q2 Study Reveals Innovation Gap for Credit Unions and Banks
Greg Varnell, Vice President, Product & Development for Q2 Innovation Studio, and Jonathan Price, EVP for Emerging Businesses, Corporate and Business Development at Q2, stopped by the show to discuss findings from their recent "The State of Digital Banking in 2022" report, which revealed an innovation gap for banks and credit unions.

Greg and Jonathan provided a quick summary of the study and discussed some of the surprising findings:
More than 60% of financial institutions see fintech partnerships as key to their growth strategy
Only 10% of the survey respondents said they have fintech partnerships but can add new ones quickly
79% of those surveyed said they can bring multiple new solutions to the market at one time
1 in 5 financial institutions struggle to bring a new solution to market within 12 months


equipifi Announces Integration with Q2's Digital Banking Platform to Offer Buy Now, Pay Later Services for Financial Institutions
Through a new integration, equipifi, a fintech company providing banks and credit unions with a white label Buy Now, Pay Later (BNPL) solution, will offer BNPL services within Q2's Digital Banking Platform. 60 percent of US consumers have used BNPL at least once and over 70 percent of BNPL users would prefer a solution from their trusted financial institution.

Read More ›




Q2's Greg Varnell, Jonathan Price, Kristi Hale, Ahon Sarkar, Peter Lezama and Abeer Thomson

Finopotamus: Q2 Uses FinovateFall to Spotlight Rocket Mortgage Partnership and Tech Accelerator
Q2 has announced some major financial technology undertakings over the last year or so. They include a new partnership with Rocket Mortgage, formation of the Q2 Innovation Studio to accelerate financial institutions' digital innovation strategy; and introduction of Helix, the evolution of Q2's banking-as-a-service (BaaS) platform.

Read More ›


---
Market Trends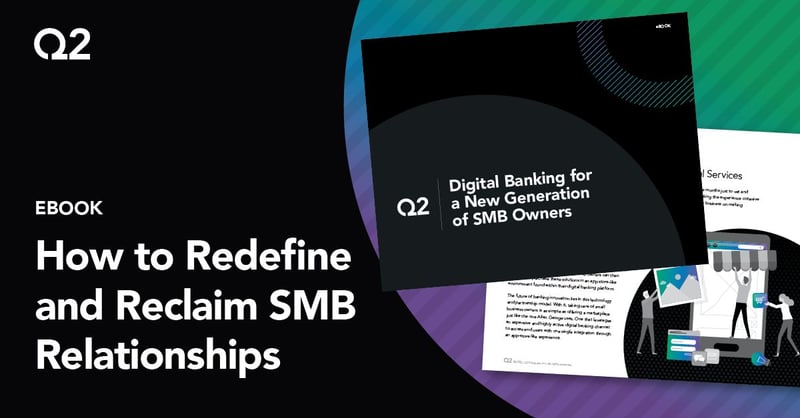 New eBook: Digital Banking for a New Generation of SMB Owners
Almost half of small business owners say they want their banks to partner with more fintech providers, with an additional 27% saying they feel this way to some degree. The time is NOW for financial institutions to step up and meet this demand; to flip the paradigm and start viewing fintechs as collaborators instead of competitive threats.

Download the eBook ›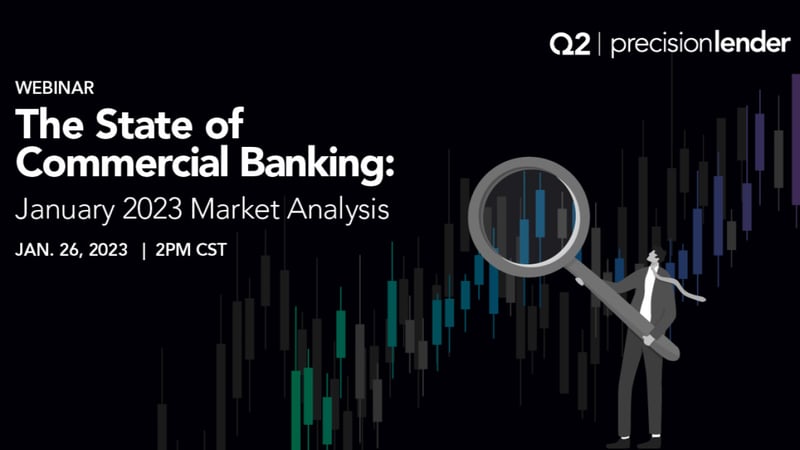 Webinar: 2023 State of Commercial Banking
Join us to hear from Q2 Manager of Strategic Advisory Services Gita Thollesson and Q2 Senior Product Marketer Debbie Smart on key commercial banking market trends from 2022 and the opportunities and challenges that lie ahead in 2023.

Register Now ›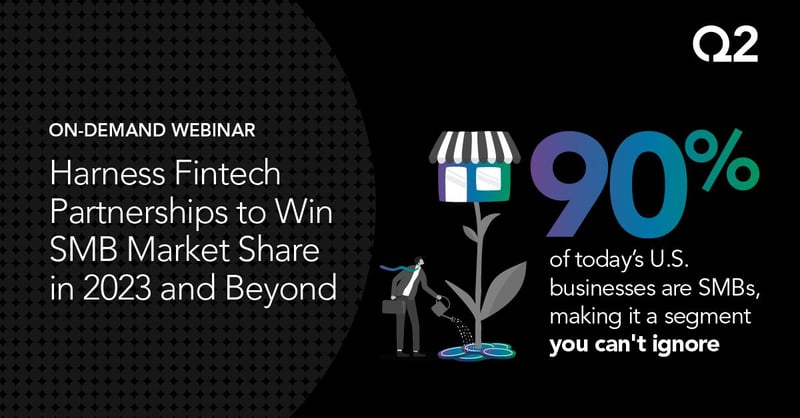 Aite-Novarica Group White Paper: Harness Fintech Partnerships to Win SMB Market Share in 2023 and Beyond
Yesterday's strategies do not ensure tomorrow's success. Financial institutions must continue to evolve their approaches and product offerings as the needs of their business and corporate clients and the market dictate new requirements. Learn more in this informative white paper.

Download the white paper ›


---
Industry Perspective




It's Time to CONNECT!
Q2's annual conference is coming back to Austin – and it's going to be bigger and better than ever. Learn about Q2's upcoming product releases, roadmap and enhancements. Network with peers, the Q2 team and other industry experts and professionals. Hear about the state of digital banking technology and Q2's strategy from Q2 execs.

Register now ›





Q2 Chief Availability Officer Lou Senko Joins Where Humanity Meets Technology Podcast
Q2 Chief Availability officer joined the host of the Where Humanity Meets Technology podcast, Maurice O. Hamilton Sr., to share how Q2 focuses on its mission to improve customer success, automate its processes and continue to protect its data visibility at the same time.

Listen now ›




Build Engagement with World-Class Onboarding
Onboarding is a favorite topic of industry influencer Jim Marous, co-publisher of The Financial Brand and owner and publisher of the Digital Banking Report. Marous recently sat down with Lee Willis, VP, Product Management for a deep discussion around the value of a successful digital banking onboarding process.

Watch now ›





On-Demand Webinar: Facing the New Financial Services Frontier
Q2 Chief Banking Officer Kirk Coleman and key bank executives to discuss the industry trends affecting financial institution decisions.

Watch Now ›





Purposeful Banker Podcast: Striking a Balance Between Hurry Up and Wait
Host Alex Habet is joined by Q2 CTO Adam Blue in a discussion about balancing speed with patience and intention to build a resilient, diverse business.

Listen now ›





Purposeful Banker Podcast: Good News, Bad News – Protecting Your Bank Against Bad Actors
In this episode of The Purposeful Banker, Alex Habet speaks with Q2's Senior Director of Solutions Consulting Steve Bartels from Q2 about the state of cybercrime in financial services and what banks and credit unions can do to fight it.

Listen now ›


---
Community and Culture


Q2 Named 2022 Diversity in STEM Leader by Code2College
Q2 is proud to have been named a Diversity in STEM Leader by Austin-based non-profit, Code2College. The recognition is reserved for organizations who have logged over one hundred volunteer hours with Code2College in the past program year, with Q2 logging more than 360 hours.

Read more ›




Announcing the Inaugural Q2 Philanthropy Fund Recipients
In the spirit of Q2 Spark, Q2's corporate social responsibility program dedicated to igniting a community of philanthropists, we're excited to announce the inaugural grant recipients of the Q2 Philanthropy Fund! Each non-profit will receive a $10,000 grant to further their goals and initiatives across the globe, enabling the organizations to have an even bigger impact on the communities they serve.

Read the press release ›