Flexible, tailored, valuable commercial banking.
Power the success of your commercial clients with tailored financial experiences for businesses of every size.
Your commercial account holders have unique and often complex needs. Provide digital banking experiences that fit their size, vertical, and expectations. Understand their challenges, meet their requirements, and become an indispensable resource to your most important clients.
With the right partner, you can do this.
Here's how.
TAILORED BUSINESS SOLUTIONS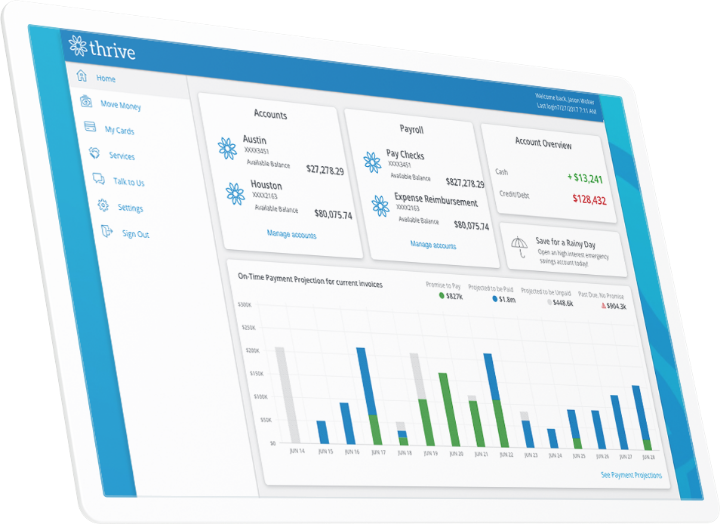 Fit their size and

expectations.
Legacy tech treats all businesses the same and provides clunky, counter-productive interfaces. It's time for something better.
ELEGANT COMMERCIAL DIGITAL BANKING
Cash management for your largest commercial clients can be very complex. Legacy tech creates additional complications, with rigid workflows and cumbersome features that don't consider user experience. Our commercial banking platform changes all that, providing a robust and sophisticated, yet simple, solution for every user and task, no matter how unique or complex.
MEANINGFUL EXPERIENCES FOR SMALL BUSINESSES
Small business account holders are the forgotten users of today's one-size-fits-all digital banking solutions. They're stuck with a choice between limited retail products or cumbersome, expensive treasury management services. Q2's business banking solutions offer features and workflows tailor-made for today's micro- and small-business users, providing self-service experiences across all of their preferred digital channels, from PC to mobile and tablet.
OFFER THE FEATURES THEY NEED
Simple,

secure, and granular entitlements
Businesses have complex banking requirements and it takes a full suite of solutions, features, and integrations to serve them all effectively.
Product Overview

A configurable, tiered solution reimagines the commercial banking experience for FIs and businesses of all sizes.

Shorten your treasury onboarding timeline from weeks to hours with automated workflows and client self-service.

VIDEO

Onboard and cross-sell business customers more quickly and easily with a simple, digital approach to account opening.

TAILORED BUSINESS SOLUTIONS
Commercial banking is filled with too many complicated elements and convoluted workflows. Simplify, streamline, and automate to save time, money, and hassle.
ENTITLEMENTS AND PAYMENTS REIMAGINED
Traditional entitlement workflows for corporate users are a nightmare. We've reimagined entitlements to make it faster and easier to ensure the right people are given the right access and approvals. We've already designed a smart payments workflow that helps small businesses understand their payments options—while letting corporate users jump right to the service they need.
RISK MANAGEMENT MADE QUICK AND EASY
Risk reviews don't have to take days, or even hours. With our automated solution for aggregating and reporting account and transactional data from every channel, you can get a fast, comprehensive look at the risk posed by each of your commercial relationships—keeping you compliant and reducing potential losses.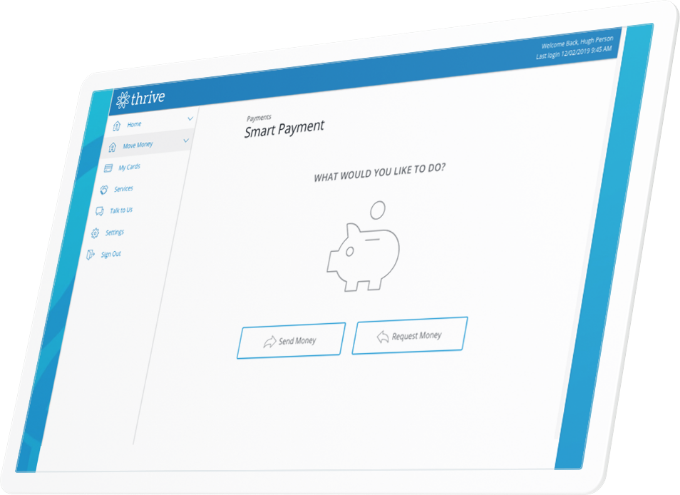 BUT THIS IS JUST THE BEGINNING
Digital Banking is just one piece of a comprehensive consumer solution set. Effectively serve account holders and transform their lives with our other consumer solution set.
Build better borrower relationships.
Give them the ability to land a game-changing contract, grow their team, or expand into new markets.
Give them less to worry about.
Give your clients all they need to stay secure, compliant, and able to focus on running their businesses with confidence.
Deliver and manage deals in real time.
When they ask, deliver. Don't lose equipment leasing deals by making clients wait for you to crunch numbers at your desk. Set a new standard with a modular solution that manages the entire lease lifecycle simply and efficiently.
Deliver real value.
Businesses understand value—they're built on it. And they expect you to prove yours. What can you do for your clients that no one else can do? By turning your commercial bankers into relationship managers with a full suite of solutions to support your clients, you can deliver real value and build stronger, more profitable relationships.
Businesses need you now more than ever.
Help them navigate the changes happening all around them—and those that aren't yet on their radar. They need you to be an agent of change.
You can't do it alone—but you won't be.
Let's do this.
Or call 1-833-444-3469