INTRODUCING
Q2's suite of consumer products
A suite of data-driven banking solutions and a vetted fintech ecosystem—together on one digital platform. It's all purpose-built to empower financial institutions to personally know account holders, so they can better serve them and grow more meaningful, loyal relationships.
INTRODUCING
Q2's suite of consumer products
A suite of data-driven banking solutions and a vetted fintech ecosystem—together on one digital platform. It's all purpose-built to empower financial institutions to personally know account holders, so they can better serve them and grow more meaningful, loyal relationships.
Turn transactional associations into relational engagements
With the help of data, you can turn impersonal transactions into meaningful relationships ... and today's account holders expect nothing less. Understand what life events they're going through and where they are in their financial journeys, and your FI will build meaningful, loyal relationships.
Through the good times
Help account holders open accounts, build credit, establish financial goals, make major purchases, and continue to grow fiscally stronger along their journeys.
Through the tough times
Support and counsel customers when they're dealing with life's trials, such as identity theft, card fraud, and crippling debt.
Through innovation
Quickly and easily deliver personalized solutions to account holders—including those from our fintech ecosystem—that go beyond traditional digital banking.
Are you ready?
Digital Banking
Begin with the basics.
Grab new account holders with a frictionless four-minute account opening—but don't stop there. Give them all of the experiences and features that they want, while building loyalty, engagement, and revenue for your institution.
A seamless, personalized experience
Offer your account holders a personalized and intuitive banking experience that puts everything they need on the devices they depend on.
One app, no waiting
They don't want to bounce between applications to manage their finances. Be the quick-and-easy one-stop shop for all their financial needs.
Everything they need, when they need it
Behavioral analytics make it easier than ever to understand your account holders, so you can offer them the right products at the right time.
Deposit growth
Frictionless account opening makes abandonment a thing of the past and drives deposit growth and engagement.
Meaningful engagement
Target account holders more accurately with relevant, timely services. You'll build stronger, more profitable relationships.
New and loyal users
Competition is fierce and users' attention is spread across multiple providers. Bring them back with better experiences and a cohesive, comprehensive set of solutions.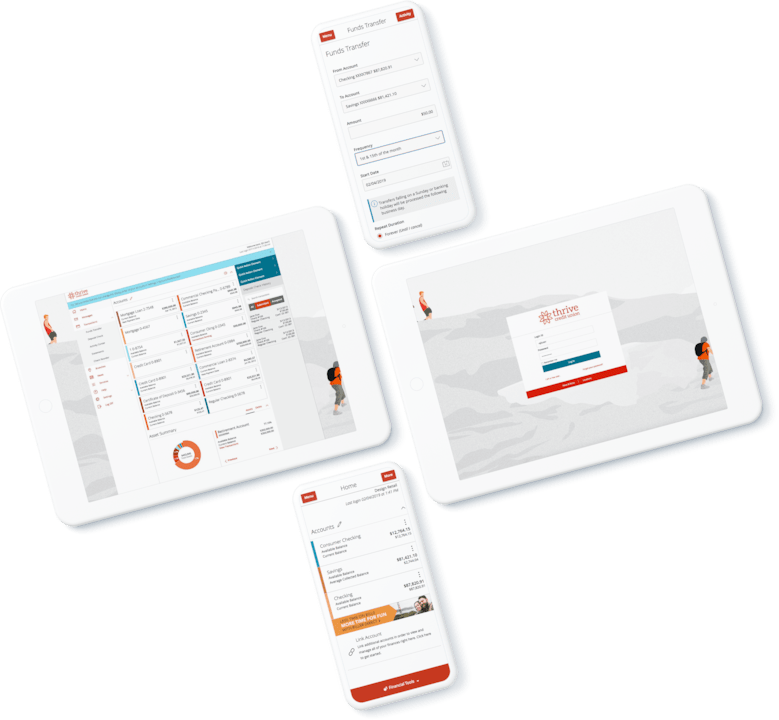 Consumer Lending
Provide them with more than a loan.
Provide a car or an education or a better life.
If your lending process feels more like a roadblock than a milestone, they'll find another route. Keep them on the right path with fast, automated, and configurable lending solutions that save them time and drive revenue for you.
Easy applications
Borrowers don't want to fill out lengthy application forms. They want streamlined mobile experiences.
Lightning-fast approvals
When they need money, they need it now. A lot of borrowers choose non-FI lenders—even with higher interest rates—because they're fast.
Consistent omnichannel experiences
In-branch, customer service is king. Extend your exceptional service capabilities into digital channels.
A simple, single system of record
Simplify and automate origination, underwriting, servicing, and more in a single system of record for all your lending operations.
Meet immediate demands
Quickly create new loan products to immediately meet market and regulatory needs. Make it happen with configurable lending solutions.
Keep up the pace, compliantly
Approve and fund loans immediately without sacrificing compliance or creating credit risk—with automation and centrally enforced credit policy.
Sales & Marketing
Offer what they want, when they want it.
They're used to one-stop ecosystems that understand their needs and deliver everything with the push of a button. Live up to their expectations.
A one-stop financial shop
Your account holders want a single, simple, and trusted ecosystem to help them meet their goals.
Fast and easy account opening
Users expect sleek workflows and immediate onboarding. If they can't get it from you, they'll go elsewhere.
Relevant offers, not spam
Your account holders want you to know them; don't flood their inboxes with irrelevant offers and ads.
An e-commerce approach to onboarding
Offer a universal marketplace experience and e-commerce checkout to create a powerful cross-sell pipeline.
3.5X more conversions
Frictionless onboarding with simple workflows and ID scanning can reduce abandonment and significantly boost conversions.
Data-based insights
Build relationships and transform account holders' lives. Offer relevant, timely content and services to help them achieve their goals.
Security and Compliance
Keep them safe without adding hurdles.
Consumers don't want to think about security. They expect you to have it handled. Keep them safe without complicating their experiences.
Easy authentication
Don't let security interfere with experiences; make logging in secure without sacrificing simplicity.
Real-time responses
Behavioral analytics detect and stop suspicious transactions in real-time, and machine learning reduces false positives.
Confidence
Obsolete responses to cybercrime don't inspire confidence. Account holders want to know you have the expertise and technology to keep them safe.
Streamlined compliance
Compliance doesn't have to be so hard. Simplify Reg E with automated dispute tracking to reduce your back-office burden.
Real-time monitoring
Monitor transactions, logins, devices, and more to build a picture of each users' normal behavior—making it easy to spot suspicious activity.
Proactive protection
Don't just react to threats, get ahead of them with proactive solutions—including blockchain technology that fragments and scatters data to prevent unauthorized access.
Account Switching
Build relationships and grow deposits.
Acquiring new consumer accounts is tough and costly, so make the most of them. Build those relationships by locking down direct deposits and recurring payments. With our automated account switching solutions, it's fast and easy to fully onboard, engage, and grow relationships.
Direct deposit and payment switching
Give your account holders a fast, digital way to switch their direct deposits and recurring payments to their preferred account at your financial institution.
Simple account consolidation
Consumers don't want piecemeal finances. Make it easy to do everything in one place. You can even automate the initiation of legacy account closure at their previous institutions.
Fast, hassle-free experiences
Traditional direct deposit switching is cumbersome, slow, manual—and different for every employer. Make it consistent, fast, digital, and friction free.
Increase deposits and profitability
Capture direct deposits and recurring payments with streamlined, digital solutions—making accounts more engaged and profitable.
Engage new accounts and reengage existing ones
Build primary relationships with new, existing, and even otherwise idle accounts.
Increase interchange revenue
Make your FI's cards top of wallet and capture recurring payments to increase engagement and boost interchange revenue.