Q2's BankOnPurpose thought leadership conference offered a packed schedule for the approximately 100 financial institution and fintech executives yesterday, beginning with a general session talk by Ryan Holiday, author of "The Obstacle Is the Way: The Timeless Art of Turning Trials into Triumph."
Holiday explained how he studied the journals of Roman emperor Marcus Aurelius to shed light on how to be a more successful leader, writer, and overall human. He said by setting aside ego, turning discipline into a routine, and practicing stillness, he's been able to be a more productive writer and a better father and husband, especially during and since the pandemic.
"Stillness is not to do nothing but to be in command of oneself on the inside and outside amid the chaos," he said.
Next on the agenda was Mikey Trafton, co-founder and CEO of Metro Cinema, who outlined how to identify your superpowers – those skills you have that you are so good at you don't even have to try. He explained how he discovered his own superpowers, as well as identifying his weaknesses, and how putting those superpowers to play has changed the way he approaches leadership.
"You don't activate your superpowers. You put yourself in positions where you can use them more often," he said. "If you want to build a great place to work, imagine if you created a place where everyone can use their superpowers."
The general session wrapped up with a presentation by B.I.G. Love Cancer, Q2's Community Give Back Partner. The organization's purpose is simple: Be there for families of children in cancer treatment. B.I.G. Love meets the needs of families, from providing favorite snacks to celebrating birthdays to helping with bills. In doing so, they also bring joy and love to the families when they need it most.
Breakouts and Panel Discussion
Throughout the day, attendees had their choice of interactive breakout sessions around top-of-mind issues like serving small businesses, developing effective digital teams, and best practices in commercial or retail banking.
After lunch, Q2 EVP of People, Kim Rutledge, led a panel discussion around a topic so popular that the session ran long: Building a Strong Team for the Future. She welcomed Trafton to the panel, as well as Heather Gedman from Truist Bank and Donna Jaskolski from Civista Bank. Besides a debate on the pros and cons of working remotely, the panelists shared how their workforce has changed since the pandemic, how they develop and retain talent, and how they build diversity in their organizations.
"In banking, we have to be very deliberate about how we source diversity. We can't just rinse and repeat and hire from the same five universities and expect diversity to happen," Gedman said.
Purposeful Banker Awards
Rounding out the day's programming, Q2 recognized and celebrated this year's recipients of the Purposeful Banker Awards.
• Banker of the Year: James Harrod of Texas Security Bank worked tirelessly and tenaciously to develop a deep relationship and land an important deal for the bank.
• Most Innovative Financial Institution – Commercial: Scotiabank made a significant investment in time and resources to digitize its end-to-end commercial banking business, leading to reduced rekeying, less deal turnaround time, and strong growth.
• Most Innovative Financial Institution – Consumer: 4Front Credit Union recognized the need to build members' financial literacy, so it launched a training program and an incremental savings program that has changed members' lives.
• Most Philanthropic Financial Institution: Sunrise Banks saw a need in the community for immigrants with ITINs to procure mortgages, so the bank developed a pathway and a grant program to meet the need.
In Case You Missed It, We're in Texas
After a day in which every meal included a brisket option (yes, even breakfast), attendees could hardly forget they're in the great state of Texas. But just in case, they got another reminder last night as they entered the Lexus Club at Q2 Stadium for the evening event. Attendees were treated to their very own custom sized and steamed cowboy hat. A sea of white hats filled the room as conference goers chatted and enjoyed drinks, more Texas-style food, and a live band.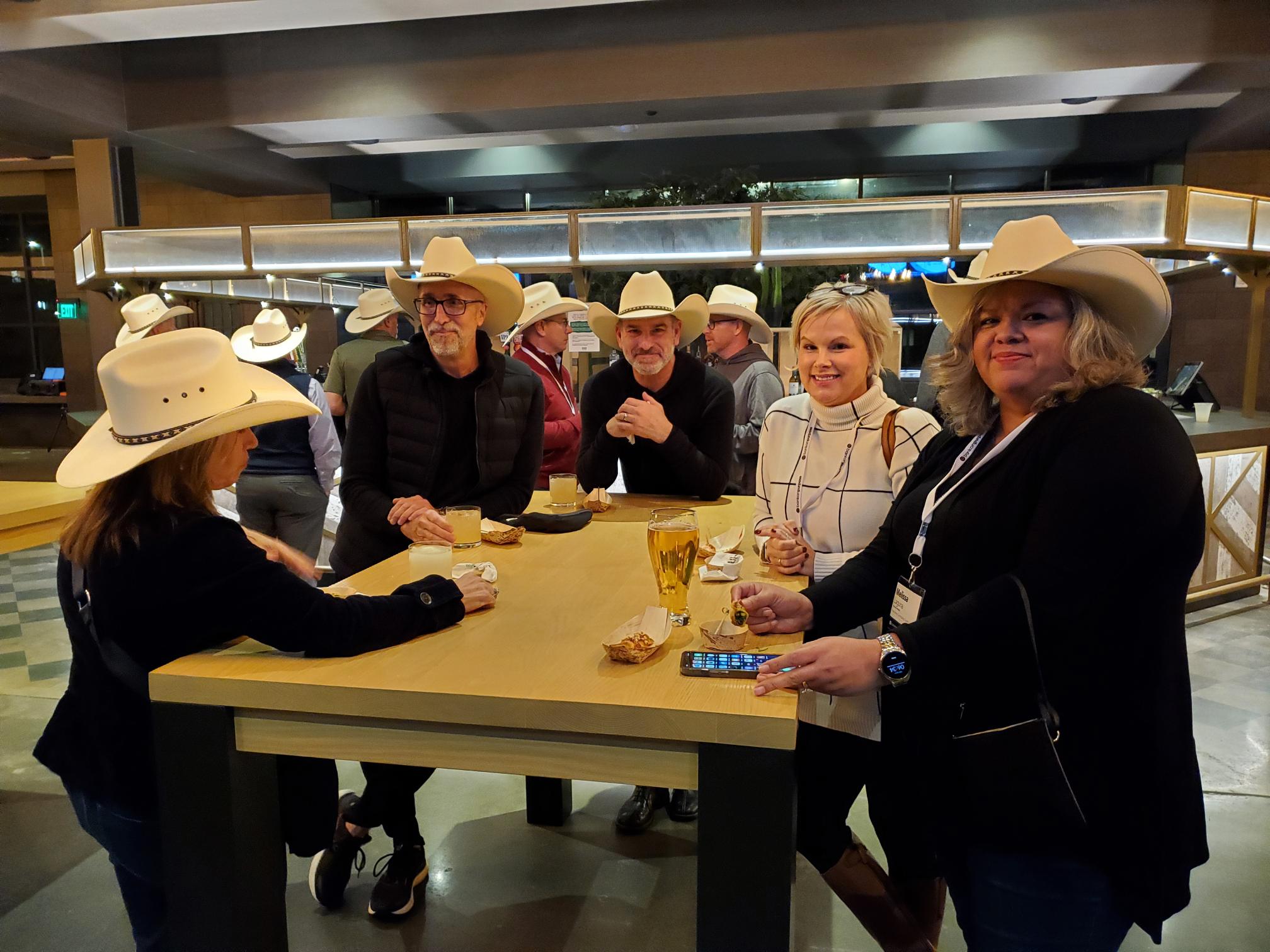 Today is the final day of BankOnPurpose, and the general session will include presentations by Q2 EVP and CTO Adam Blue and Salesforce Global Growth Evangelist Tiffani Bova, and a panel discussion on Doing Digital: A Modern Bank's Guide to Thrive.
It's Official – BankOnPurpose is Hitting the Road
New year, new experience. BankOnPurpose is packing up for a trip like no other in 2023: The BOP Roadshow!
This series puts an exclusive new twist on the inspiring and collaborative conference attendees have come to love. Except this time, we're coming to the customer. Hosted at various locations across the country, no two events will be the same. And we're starting strong with our first stop in New York City in February!
With smaller groups, deeper conversations, VIP guest speakers, and top-notch venues, The BOP Roadshow is sure to deliver an elevated experience you won't want to miss.
To learn more or to get on our guest list, please reach out to us at BankOnPurpose@Q2.com.