By John Merrill, Q2 Director of Product Management, Lending
In 2019 – prior to COVID-19 – small business growth was skipping along at a 16% growth rate* and at the same time online lenders were making significant inroads into the SMB lending space. The Federal Reserve Banks' 2021 Report on Employer Firms based on the Small Business Credit Survey found 33% of small businesses turned to online/fintech lenders for their credit needs. These lenders were winning on ease of borrowing, likelihood to fund/approve small business loans, and speed of approval—often times in spite of relatively unfavorable rates.
By all appearances, fintechs offer the ideal lending experience for small businesses in need of credit access and quicker approvals. However, the survey found that the majority of applicants, 43% to be exact, were dissatisfied with online lenders/fintechs' high interest rates. So, while drawn to online lenders, many small companies are not completely sold on this option.
At the time, a growing concern to many financial institutions (FIs) was whether they could effectively compete with fintechs in the lending market as these innovative upstarts gained more traction. FIs, while having the edge in relationship building and management, began to worry even more about market erosion.
And then, the pandemic hit
As the force of COVID-19 struck in 2020, small business disruption and revenue fallout drastically changed the lending outlook. The survey found the vast majority of small firms (95%) reported that the pandemic impacted their business, with 26% closing temporarily, 56% reducing their operations, and 48% modifying their operations.
More than 90% of small firms also sought emergency funding to weather the financial impact of the pandemic. The SBA's Payroll Protection Program (PPP) has been the most commonly traveled funding path, with 82% of employer firms applying.
In seeking PPP assistance, lending via fintechs dropped off and small businesses turned to FIs for help. Firms that sought PPP funds most frequently submitted their applications through small banks at 48% and large ones at 43%. At the same time, online lenders/fintechs saw only 9% of respondents turning to them – down from 33% in 2019.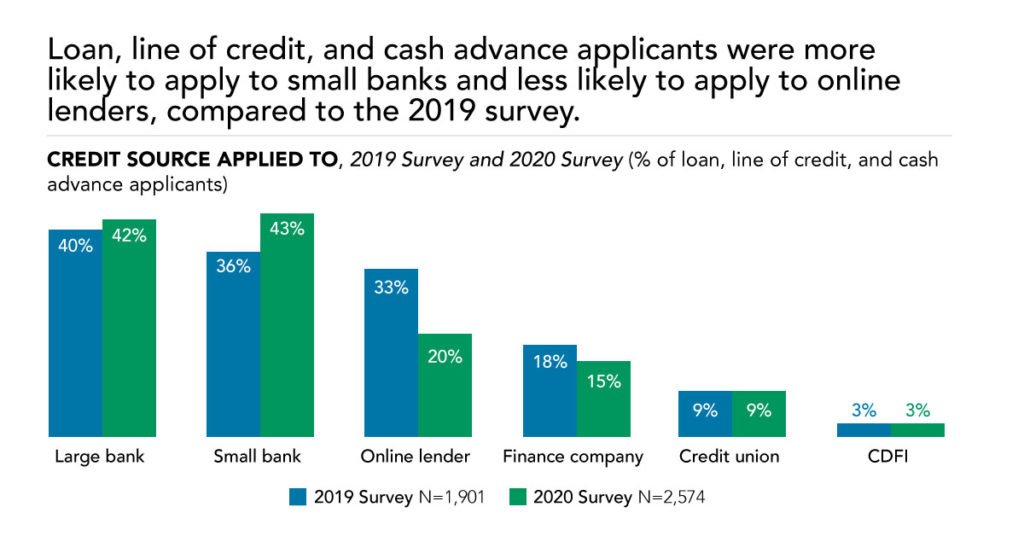 The tale for 2021 continues to be written
Entering mid-2021 the need for more small business lending is a point of discussion for FIs and other financial services organizations. Many are asking the same question, "What's to come?" The information offered in the Q2 blog post "What's ahead for small business lending: better or worse times?" may help answer the question.
Survey results presented in this blog come from the Federal Reserve Banks' 2021 Report on Employee Firms based on its Small Business Credit Survey.
*Finances Online, 2021