From John Merrill, Q2 Director of Product Management, Lending
Headed into summer 2021 challenges remain for small businesses. Based on information gathered by the Federal Reserve Banks, emergency and other forms of lending will continue to be sought by businesses.
Some 95% of the Federal Reserve Banks' survey respondents expect pandemic-related challenges to continue, with 32% indicating that credit availability will be one of those challenges. In terms of the "single most important challenge" to come, 13% cited credit availability – ranking third.
In terms of performance expectations for small businesses, the Federal Reserve Banks' chart below shows mixed expectations of what's to come. However, a combined 60% of respondents believe revenue will not change or will decrease, and a combined 69% believe employment will not change or will decrease. If revenue and employment stagnation or decline are the majority projections, FIs will have an even more important role to play in aiding U.S. small businesses.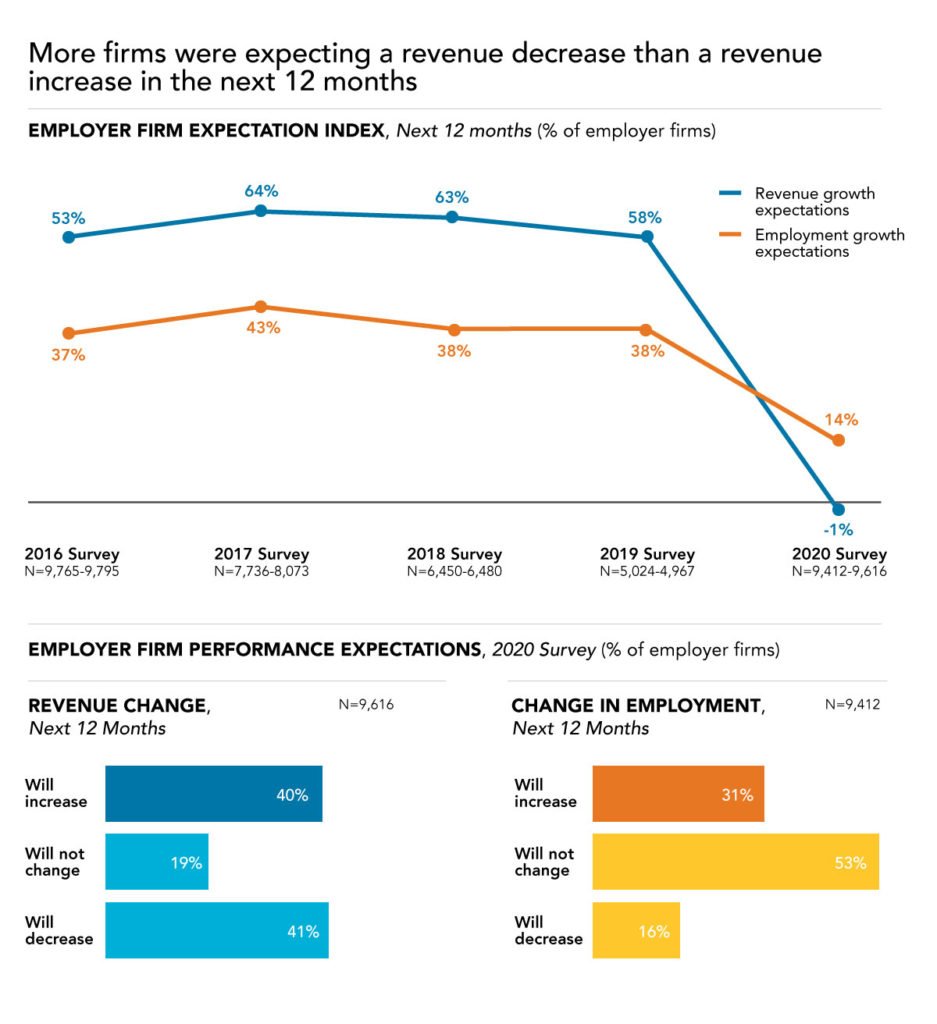 FI relationships, technology matters in 2021 and beyond
FIs can make a difference in small business' survival and rebound. As pointed out in an earlier blog, firms that sought PPP funds most frequently submitted their applications through small (48%) and large (43%) banks. Of firms that applied through large banks, 95% had an existing relationship with their bank prior to applying for a PPP loan. Eighty-three percent of small bank applicants had an existing relationship.
Meanwhile, the emergence of quickly deployed online lending solutions to meet the financial needs of small businesses bodes well for FIs, large or small. In Q2's case, our PPP solution has proven that FIs can respond quickly with meaningful technology innovation, help even more businesses, and open a door to more digital lending—be it PPP and other emergency funding or another lending as the future brightens.
Again, the ability to build and manage a financial relationship is a major plus to banks and credit unions amid ongoing uncertainty. And the FI willing to build relationships with automated lending technology will be ready to better assist small businesses at scale amid ongoing uncertainty and as they return to growth.
Other important lending observations
Other survey observations from the Federal Reserve Banks' Small Business Credit Survey further point to more opportunities for banks and credit unions, especially smaller ones.
When asked about the support they received during the pandemic from their primary financial services provider, firms were most satisfied, at 61%, with support from small banks.
Credit unions also received positive responses, with 48% of small businesses expressing satisfaction.
Meanwhile, online lenders/fintechs only received an 18% satisfaction response as the pandemic took hold.
Helping diverse communities also matters in 2021 and beyond
While 57% of employer firms characterized their financial condition as "fair" or "poor," 79% of Asian-owned and 77% of Black-owned firms described their financial condition as fair or poor. However, with smart decisioning, digital lending, and dedicated relationship building, these small businesses can gain access to needed credit and FIs can support struggling communities while developing brand loyalty.
So, what can traditional FI lenders take away from the last 12-18 months?
The future is never certain, but when the going got tough, small businesses turned back to the reliable lending stalwarts, in turn undoing some of the gains non-traditional lenders had made on the market in years prior. As the dust settles, FIs that can combine the best of both worlds—unmatchable relationships and expertise with world-class digital experiences—may be the biggest winners in SMB lending for 2021 and beyond.
Q2 offers out-of-the-box digital lending for banks and credit unions seeking to help small businesses with their credit needs in 2021 and beyond. Find out how automated processing and compliance will deliver loan approvals faster and more efficiently and securely than competitors—and lead to more loan volume.
Survey results presented in this blog come from the Federal Reserve Banks' 2021 Report on Employee Firms based on its Small Business Credit Survey.