The Centrix Exact/TMS™ positive pay solution in 2022 prevented $719 million in check and ACH fraud from negatively affecting financial institutions (FIs) and their commercial account holders. However, seen through a different lens, $719 million in fraud prevention speaks to a steep rise in 2022 fraud attempts against businesses and, especially stands out when compared to 2021 when Exact/TMS prevented $342 million in check and ACH fraud.
Perspective: Fraud and fraud prevention in 2022
The fraud prevented by Centrix Exact/TMS in 2022 validates that fraudsters continue to be active and are aggressively targeting check and ACH payments. Not only are fraudsters getting smarter, but they're becoming more daring as the percentage of organizations reporting incidents of payments fraud stood at over 65% at the end of 2022, based on AFP's 2023 Payments Fraud and Control Report.

As seen below, Centrix Exact/TMS last year prevented payments fraud in the tens of millions of dollars each month—showcasing its exceptional transaction risk management capabilities amid the audaciousness of scammers homed in on FIs and businesses of all sizes across the U.S.
2022 Centrix Exact/TMS Fraud Prevention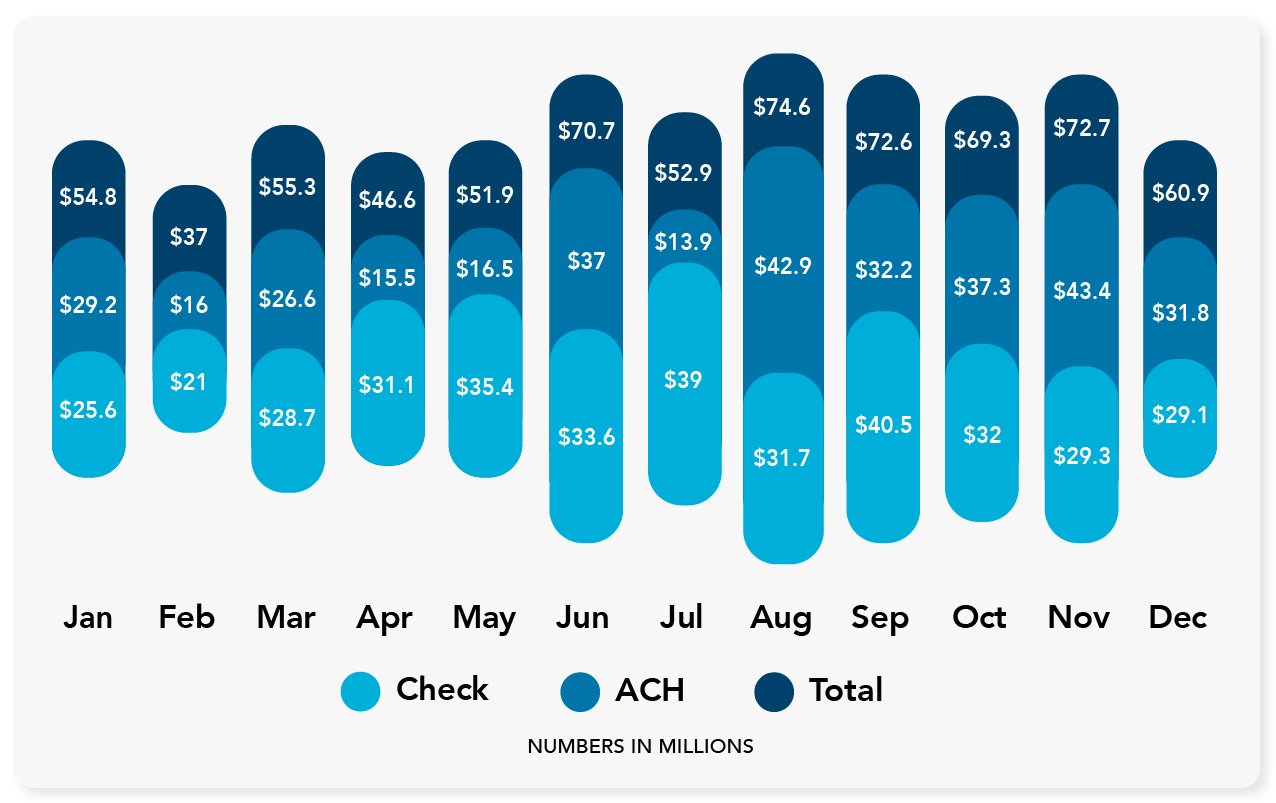 Prediction: 2023 fraud remains significant, and fraud prevention is paramount
The question for FIs and the businesses they serve is whether payments fraud will lessen in 2023. By comparing Centrix fraud prevention in the first quarters of 2022 and 2023, an understanding of the current fraud landscape can be discerned.

Looking at the first quarter of 2022 in the chart below, the trend toward higher fraud prevention by Centrix Exact/TMS stands out from a monetary perspective, with trendlines pointing toward heightened loss prevention into the year amid rising criminal attempts to undermine FIs and businesses.
Q1 2022 Fraud Prevention by Exact/TMS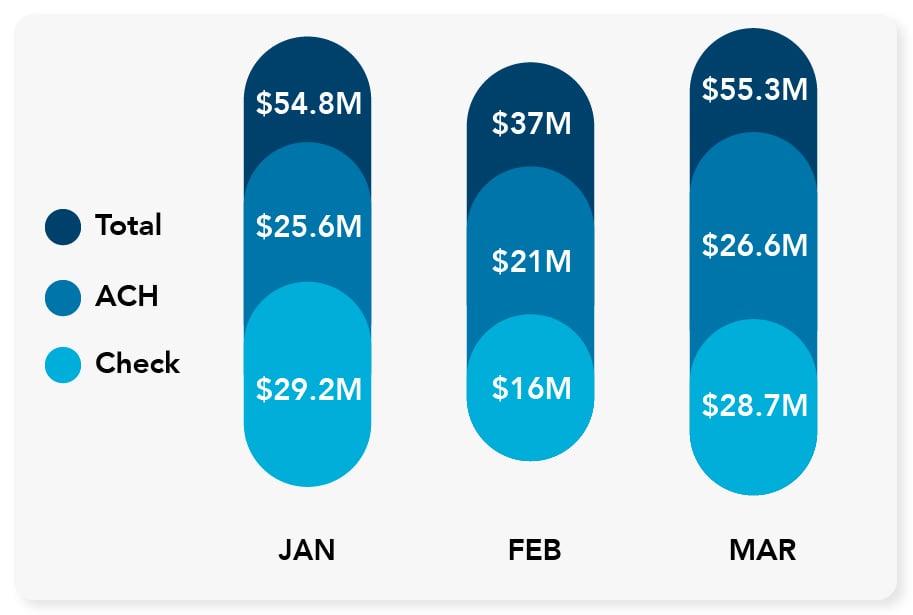 Q1 2023 Fraud Prevention by Centrix Exact/TMS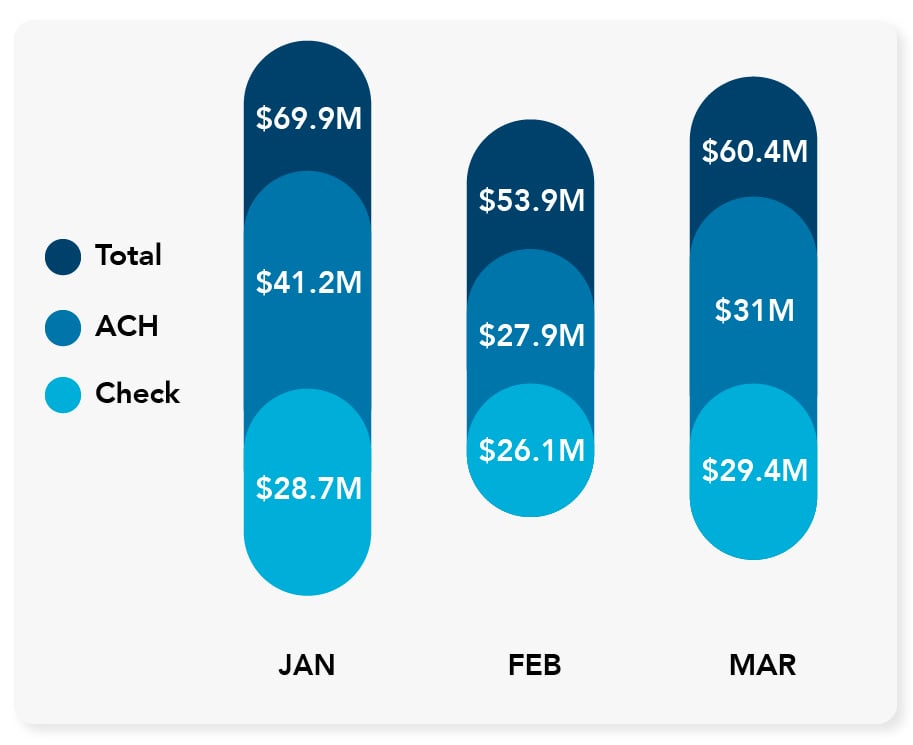 Next, looking at the first quarter of 2023 in the chart above, check and ACH fraud prevention may seem at first glance to be trending flat or lower. However, that's not the case. Looking closer, the overall dollar value of fraud stopped as a de facto indicator that criminals remain highly active and more brazen as they attempt to penetrate higher-dollar payments. In addition to concerns over check fraud in recent years, ACH fraud is increasing, according to AFP's Payments Fraud and Control Report for 2023.

For wary businesses, the early 2023 pattern justifies the concerns they have about growing payments fraud. Various reports indicate that well over 50% of companies already believe payment fraud attempts will increase in 2023, and more of them are open to positive pay solutions and other controls.

Their fears and concerns are confirmed in 2023. In the first quarter of this year, Centrix Exact/TMS prevented $37.2 million more fraud than the same period in 2022. In first quarter 2023 compared to first quarter 2022, Exact/TMS prevented $8.9 million more in check fraud and an eye-opening $28.3 million in ACH fraud.
Centrix will identify and stop fraud for you in 2023
Effective transaction risk management has never been needed or wanted more, and Centrix Exact/TMS is an excellent option. Our solution continues to prevent check and ACH fraud, even as fraudsters are amping up in 2023. Through purposeful innovation, Centrix brings the automated full account reconcilement of all transaction activity that businesses want and offers new revenue opportunities for your FI.
Download, "Getting Ahead of Risk" to learn more about Centrix Exact/TMS and how your FI and the businesses you serve can get ahead of risk today.