In 2019, Customers Bank, a full-service super-community bank with assets of nearly $18 billion, decided to focus on growing the commercial side of their business. They wanted to increase the number and size of accounts, as well as improve the makeup of their commercial loan portfolio.
"Through our relationship managers, we were hitting our goals for commercial deposits," said Jennifer Frost, executive vice president and deputy chief administration officer of Customers Bank. "But we were looking to build new relationships through the digital channel."
When COVID-19 hit early in 2020, the prioritization of digital engagement ramped up fast. At the same time, the economic effects of the pandemic and the rollout of Payroll Protection Program (PPP) loans for small businesses introduced an entirely new set of requirements for managing loan applications and approvals, as well as the rapid delivery of funds.
Their existing relationships and infrastructure allowed them, by end of the PPP eligibility window, to participate, to varying degrees, in over 100,000 loans with an aggregate value of over $5.4 billion.
But to make this all happen as quickly and simply as possible, they needed to speed up the lending process for non-customers, as well as and streamline their ability to re-market to new borrowers in order to make them customers. Q2's account opening solution made this possible—and easy.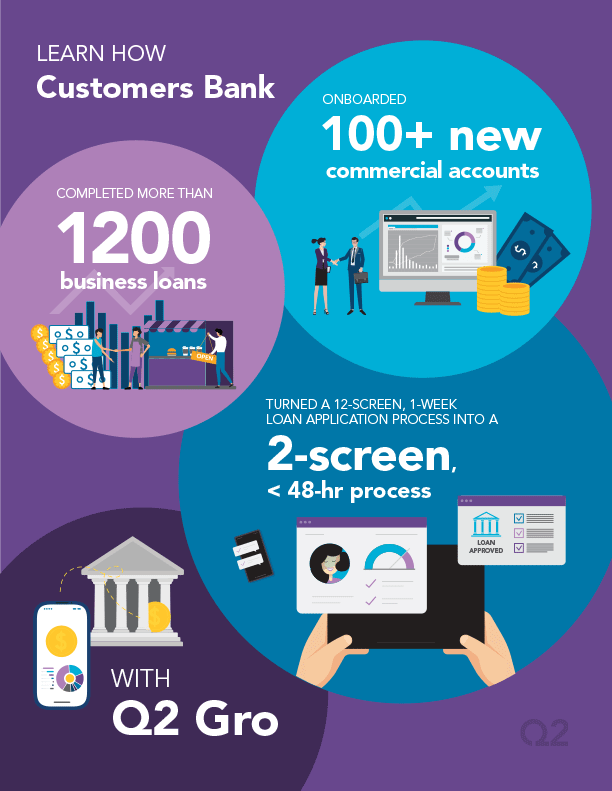 "It used to take us about a week to process an application—back and forth via email, working through 12 screens," Frost said. "Now, with the Q2 solution for digital onboarding and sales, it takes a maximum of 48 hours to open a new business account, enroll them in digital banking, and deliver their funds."
In addition to helping generate 1,200 loans in a short window of time, Q2's solution enabled Customers Bank to open approximately 100 new commercial checking accounts quickly, easily, and—most importantly—digitally.
This streamlined experience has created a positive start to a lot of new banking relationships. Even better, Customers Bank has been able to use technology to easily build further engagement with these new customers over time. "Because this solution is digital—and allows us to digitally market and sell to our existing PPP customers—it lets us to 'layer' into the relationship over time," said Frost, "People can act when it works for them."
To learn more about Customers Bank's rollout of Q2 Gro and how it helped them deliver digital, friction-free account opening and lending, you can read Q2 CSO Will Furrer's Fireside Chat with Jennifer Frost here.