Shorten your treasury onboarding timeline from weeks to hours
Automating workflows lets you onboard dozens of products with ease and efficiency.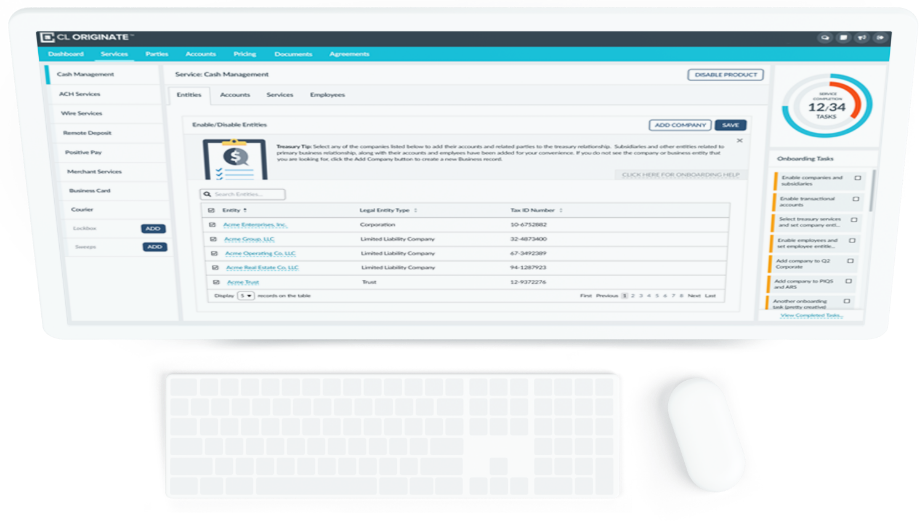 Give your commercial clients—and your employees—a better onboarding experience.
By digitizing and automating as much of your onboarding process as possible, you shorten your time-to-revenue while relieving everyone of manual, paper-based drudgery.
RAPID DIGITAL ONBOARDING
You can cut your onboarding time by 70% (on average) using our system.
EFFICIENCY THROUGH CLIENT SELF-SERVICE
Digitizing equipment orders, wire transfers, and transaction limit management lets commercial clients handle aspects of the onboarding process on their own.
INCREASED SALES CAPACITY
Manage leads and share sales details between departments with minimal burden. We've seen a two-fold average increase in treasury sales with our system!
Automated onboarding workflows

Automatically assign tasks and generate treasury agreements for e-signatures.

Treasury dashboard

Comprehensive monitoring capabilities include key customer statistics, client business structures, active services and cross-sell opportunities, and more.

Intelligent services recommendations

Make targeted offers based on client behaviors, traits, and needs across all channels, increasing your likelihood of a sale.