With roots back to 1906, Olympia Federal Savings ("OlyFed") is a mutual bank with a rich heritage steeped in tradition. Over the past century, OlyFed has gained financial institutional expertise throughout the country's many economic cycles, but its focus is not driven by the past, but rather by what lies ahead – a digital transformation and an overall better experience for their customers.
In its drive for innovation, OlyFed called upon Q2 to further modernize its digital banking platform. Using Q2's platform, OlyFed has been able to offer several new features and benefits to its customers, most recently adding SavvyMoney's superior credit monitoring solution.
With SavvyMoney embedded directly onto OlyFed's platform, customers can quickly and securely monitor their credit scores right from their digital banking dashboards. Adding this feature has demonstrated OlyFed's commitment to anticipate and deliver an innovative, useful, and relevant feature to help customers improve their financial literacy.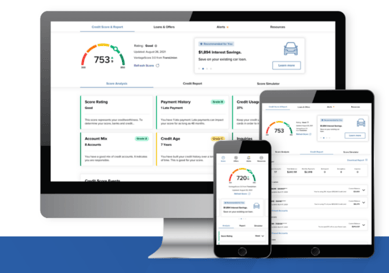 Adopted by 10% of OlyFed's online banking users within the first 30 days, SavvyMoney's credit score solutions are quickly becoming a popular feature with their customers Many have provided rave on-line reviews. Moreover, in less than 6 months, 20% of OlyFed's online users were actively using SavvyMoney, learning more about their personal financial wellness, and even asking questions about securing new loans with more attractive interest rates.
Trust Makes the Difference
While several companies have emerged with solutions for credit monitoring and fraud prevention, OlyFed's senior vice president and CIO Mike Bowen, noticed a trend that some consumers were reluctant to dive in and provide their personal financial data to these companies. This wasn't because they weren't interested in the solution, but because they simply didn't know or trust these brands. "When it's available through their financial institution, the trust is inherently there. They can sign up and keep everything in one place without having to share financial data with a third party." Bowen said. "There are other credible credit monitoring services out there, but not everyone trusts giving their financial data to a third party. We knew our customers wanted a tool to help monitor their credit and receive alerts if/when something happens, but we weren't expecting the adoption rate to be so high in the first few months."
Now, with Q2's platform enabling the secure delivery of SavvyMoney right onto the customers' existing digital banking dashboard, customers are far more likely to engage, learn how to improve their credit scores, directly benefitting from all these features.
Bowen noted that his team has been pleased with how easy it was to bring SavvyMoney aboard, without the heavy lifting typically associated with launching a new product. "We rolled out Q2 to customers with just a single email," he said. "That was it. They took it from there and ran. That's how quickly our customers realized the value of SavvyMoney."
As engagement continues to climb, Bowen said he plans to add customer campaigns to SavvyMoney's capabilities, enabling OlyFed to make timely, individualized offers for loans and financial products based on the customer's specific situation. "We plan to build upon this momentum and start adding SavvyMoney's credit data into our lending campaigns, but, for now, our ROI is customer satisfaction," he said. New inquiries into refinancing loans and other products have already resulted from SavvyMoney, occurring organically, and underscoring the potential for OlyFed to expand services.
"We're not looking for uncontrolled growth, just a better way to serve our customers. And, we plan to do that with Q2 right at the center of it," Bowen said. "Q2 allows us to work within our own environment at our own discretion. We're now able to integrate with just about any (fintech) we want."
To learn more about OlyFed's success with Q2 and SavvyMoney, check out the full case study here.