Q2's mission to build strong and diverse communities is especially significant during Women's History Month. In celebration of Women's History Month, we are highlighting unique perspectives from our Q2 team members on what Women's History means to them.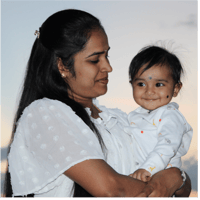 Women's History is Everyone's History
Meenakshi U
Accountant
Bangalore, India
Who is a woman you admire in your personal history and why?
The person I admire the most is my mother! She has been my backbone, supporting me through everything I've gone through in my life. My mother is the most inspiring person to me because she is my number one supporter. She takes care of me, and she encourages me to overcome my obstacles. She is the reason I am where I am today. I am proud to be her daughter.
What does Women's History mean to you?
Women's history is everyone's history. It's an opportunity to celebrate all the accomplishments of women, big and small. We can learn more about the things that we do as women and give us a chance to learn and grow in this space of heaven. It's a great way to the contributions of women.
What do you teach your children about Women's History?
I teach my son what we all grew up learning "Yatra naryastu pujyante ramante tatra Devata, yatraitaastu na pujyante sarvaastatrafalaah kriyaah." This means, "Where women are honored, divinity blossoms there, and where women are dishonored, all actions, no matter how noble, remain unfruitful." Where there is a happy woman, there is a happy family and a happy country.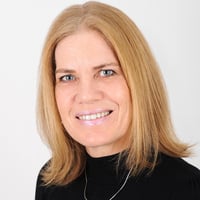 Stories of Empowerment
Charlotta Spence
Director, Customer Success
Sydney, Australia

Who is a woman that you admire in your personal history and why?I admire Astrid Lindgren, the Swedish Author of Pippi Longstocking and other children's books. She was born in 1907, and as an unmarried mother, she fought for the rights of children, for equality, ecology and animal welfare. Her books (also made into movies and television series) inspired and motived many generations of children, and still do. A children's hospital has been opened in her honor, as well as two theme parks in Sweden.

What do you teach your children about Women's History?
I have two children, a boy and a girl. I try to raise them the same, encouraging their uniqueness and special strengths and interests. I don't necessarily teach them about Women's History per se, but rather about gender equality and respect for everyone.
How do you celebrate Women's History month?
This year, I plan to reconnect with Dress for Success as a volunteer. This deserving organization donates work clothes, shoes and bags and helps participants with their resumes, empowering them to achieve economic independence.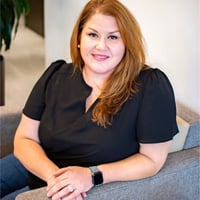 Faith in the Future
April Thomas
Director, Product Management
Austin, Texas, USA
Who is a woman that you admire in your personal history and why? I admire my best friend from Texas A&M University, Melissa, so much. She is the Chief of Staff at the Texas Higher Education Coordinating Board and the Executive Director of the Texas Higher Education Foundation. I admire her because I have watched her persevere time and time again in politics and government while always keeping focus on what matters to her most – driving change and equality in Texas' education policies. I am always amazed by her insight and passion for driving change. She has forged ahead and always inspires me through her leadership, and she never lets her achievements change who she is. She is always authentically herself.
What does Women's History mean to you?
To me, it means remembrance – remembering how far we've come and understanding how far we have to go. It's not forgetting all the women (famous or not) who came before us all. It's remembering the women who made the world a place where I can work, have my own bank accounts, vote and share my voice. Remembering the journey means keeping women a relevant part of the conversation. And as the great Ruth Bader Ginsburg said, "Women belong in all places where decisions are being made."
What do you teach your children about Women's History?
I have two sons and it is more imperative than ever that they are raised with an equality mindset. Since they were very young, we have taught them that two things matter about a person – what is in their hearts and minds. We never shy away from hard conversations. We recently watched Hidden Figures and my oldest couldn't comprehend a world like that. That gives me faith in the future.
Relevant Resources
Read more about Q2's culture and its mission to build strong and diverse communities.